Rev. Terry Prichard's story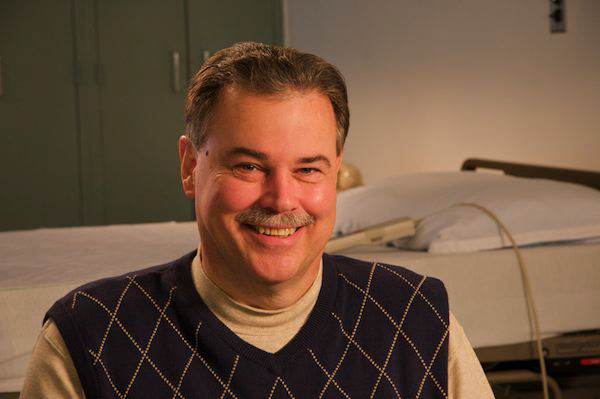 The Mother's Day Offering Gave Us Great Comfort and Hope

"I cannot imagine how distressed my wife and I would have been without the help of the Mother's Day Offering. We were so comforted to know that North Carolina Baptists would be there for us. Their generosity in helping with my hospital bill aided my healing and recovery. They gave me incredible hope," explained Rev. Terry Prichard, a Baptist minister and Director of Missions for the Montgomery Baptist Association.
Rev. Prichard nearly died in an automobile accident last summer. Severe internal injuries and fractures to his hip, shoulder and foot were devastating. "I was in shock and a lot of pain as the ambulance took me to Baptist Hospital. I was in traction for over four weeks and completely unable to move. It was rough, lying there flat on my back, wondering if I would ever be well again and able to return to my normal life," he said. In the long hours of the day and night, anchors of hope were vital.
"My wife spent 27 days at my bedside and was a tremendous source of strength," he gratefully recalled. "I could never thank her enough."
Prichard's successful recovery was undergirded by the care he received at Baptist. "Baptist Hospital is a ministry center as well as a medical center. I could see God's grace at work. The care of the doctors, nurses, and everyone was just excellent. They were so gracious, kind and reassuring, just like family. Knowing that I was in the hands of such caring, dedicated professionals gave me real hope and peace of mind."
Hope also came from the compassionate support of North Carolina Baptists and the Mother's Day Offering. Baptist Hospital provides a subsidy for up to 25% of the hospital bills for N.C. Baptist ministers and their families for care received at Baptist. The assistance is made available through a special endowment fund with help from the Mother's Day Offering as needed.
"I don't think we could have ever paid the hospital bill without the help of the minister's subsidy and the Mother's Day Offering. The financial burden was going to be enormous and the pressure of worrying adds to the stress of recovery," Prichard said. "Knowing that North Carolina Baptists were there to help lift the burden gave me great comfort and hope.
"I would encourage every North Carolina Baptist to give freely to the Mother's Day Offering. I was only one person who was helped, and there are many more who need it. The Offering touches lives. It makes a world of difference and an eternity of difference."