Kenzie Martin's story
"Changing Lives with Gifts of Hope"
The birth of a child should be a joyous celebration. But for Eddie and Tracy Martin, the joy was mixed with worry and fear. Their daughter Kenzie was born with a hole in her heart as a result of Downs Syndrome. She needed open heart surgery.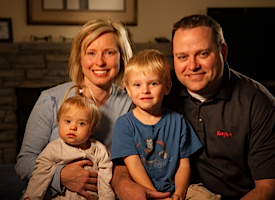 As a nurse, Tracy knew that Kenzie would receive the best care at Baptist's Brenner Children's Hospital. The surgery was successful – but many seizures followed. Tracy needed to leave work to stay home with Kenzie full time.

The Martins were used to making ends meet, but now with only Eddie working they were suddenly burdened beyond their limits – financially and personally. With a little too much to qualify for financial assistance, they were trapped under a growing mountain of bills. They borrowed and sold what they could. Eddie began missing work due to painful stress migraines. The family was struggling.
"The stress wouldn't stop and was wearing us down. We had all the worries about Kenzie's problems. Then not having enough money to pay our bills – it hurt. " Eddie said. "Every time the phone rang, we didn't know if it was family checking on us or someone saying, 'You owe us money.'"
And then they received a call that gave them hope and changed their lives. They learned that North Carolina Baptists had paid the balance of Kenzie's hospital bill in the name of Jesus Christ and His love.
"The Mother's Day Offering saved us," Tracy said. "This kindness lifted a huge weight off our shoulders. We could see light at the end of the tunnel. And it couldn't have gone to a better little girl."
"This is God's love in action," Eddie rejoiced, "It was a miracle, just like my daughter getting healed. The Mother's Day Offering changes lives. Our lives were being changed for the worse and this changed them for the better. We know this was a blessing sent from God. And we thank those who helped us with all our hearts."