Rev. John Baker's story
"Answered Prayers"
Rev. John Baker, the pastor of Green Hill Baptist Church in Rutherfordton, was in agony. A ruptured disc had degenerated and he needed extensive surgery. "When I came to Baptist Hospital, they had to replace the disc artificially and rebuild my back to what it should be. It was scary, but I'm so thankful I allowed them to do the surgery. They did a great job," he said.
In the midst of his gratitude for the Lord's healing, new fears came with sudden, unexpected and serious financial needs. "My wife and I found out literally the day before surgery that my insurance didn't want to pay," he said. "We faced some difficult times when bills would come and we realized it was going to take a long, long time to pay for this. We just didn't have that kind of money."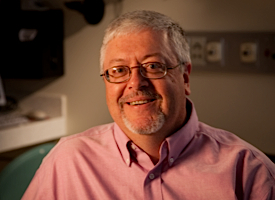 John and Melissa prayed for God's help – and He provided for them. The North Carolina Baptist Hospital subsidy for Baptist ministers, combined with the Mother's Day Offering, paid the balance of his hospital bill.

"I was driving to Atlanta to visit a church member in the hospital when I got the call telling me that my bill was paid in full," he said. "It was the greatest call you could get. I pulled off the road and cried and just thanked the Lord. At that moment I knew that God had answered our prayers."
"I'm a church pastor and my wife, who had been unemployed for a long time, had just started a new job. Paying this bill was going to be a long, hard road. What North Carolina Baptists did for us through the Mother's Day Offering literally changed our future. They gave us peace and stability."
"North Carolina Baptists, through the Cooperative Program and so many other ways that they give, including the Mother's Day Offering, are literally being the hands of God reaching down and touching people where they hurt, where they have needs. God is using individuals to be His hands and lift people up and put them back on their feet."
"I just can't express how thankful I am for Baptist Hospital and for God's people who give to the Mother's Day Offering. They really are impacting people's lives."