Logan McGirt's story
It was the first time Logan McGirt, now age 16, had ever seen his father cry. Logan had just been diagnosed with an aggressive leukemia and was admitted to North Carolina Baptist Hospital that fateful day in 2010. So began the life-changing journey. Logan and his parents would face the devastating disease that would threaten his life and push them to the brink of emotional and financial disaster.
Since that day, Logan has been in and out of the hospital. He missed a year of school and his mother had to quit work to stay home to care for him. His father, also, missed a great deal of work.

As the hospital bills accumulated, Logan's mother, Rhonda, literally was worried sick about how to pay them. "We are a hard working family," she said. "But within the first two months, all the savings were gone. We were afraid of losing everything." Even with health insurance, the family was devastated financially. They made too much to qualify for Medicaid, but were not able to pay the mounting bills. Rhonda, herself, was hospitalized at one point due to overwhelming stress.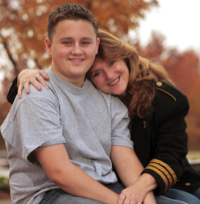 As her hopes were fading, God's grace came in a letter saying, "Your son's hospital bill has been paid by compassionate and mission-minded North Carolina Baptists in the name of Jesus Christ and His love."

"North Carolina Baptists changed our lives through this generous gift," she said. "They renewed our faith and gave us hope. God came to our rescue, and we are forever grateful. I hope they will continue to help others like they've helped us."